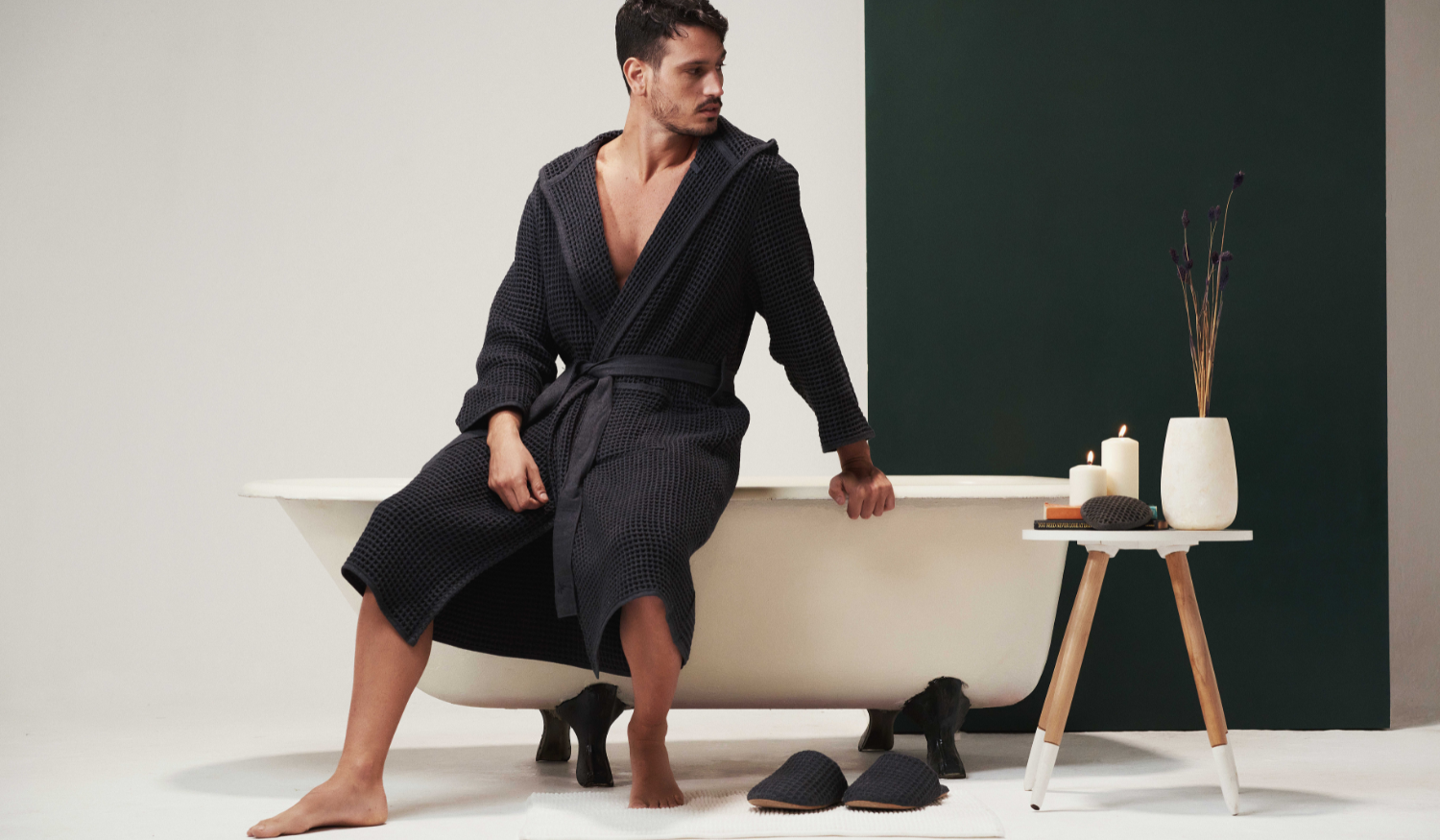 Posted on
---
Say goodbye to rough, slow-drying robes that fail to meet your daily needs. Introducing Casamera's
game-changing honeycomb robe
- the result of over 3 years of meticulous development.
Our innovative design has led us on an exciting journey filled with surprising discoveries. Today, we proudly present our flagship product - the ultimate bathrobe that's set to redefine your robe-wearing experience.
Join us as we unveil the only bathrobe you'll ever need!
The Art of Fine-tuning is transformative. 
During our 3-year-long development journey, we steadily built out the stylistic elements of our bathrobes to functionally suit everyday loungers like you.
The Classic Waist Tie
Just the right amount of flexibility and support across the waistline to give you maximum comfort and the ability to adjust your robe's snugness to any degree with ease.
The Pockets
Next, we designed our pockets for the modern age - giving you the capability to store anything from phones to water bottles, TV remote, or a book - all supported by durable stitching to avoid wear and tear from frequent use.
Cozy, oversized hoodie
Whether you need to dry your hair, make a fashion statement, or simply withdraw into the coziness of your new honeycomb bathrobe, these hoodies are the perfect luxurious comfort you need in your daily life.
And yet, beneath all of these amazing features lies an incredibly-designed process known as thermoregulation - which is how our bathrobes whisk away moisture from your skin and promote airflow beneath the fabric, drying you off quickly and keeping you cool in even the hottest weather!
We even added a secure eyewear loop on the bathrobe's lapel to allow you to secure your glasses right on the robe itself.
The Honeycomb Weave is Not Just For Turning Necks
Casamera's signature honeycomb fabric is not only there because it looks good, but it also has a fascinating history! Inspired by ancient weaving techniques, our bathrobes feature a pattern of interconnected pockets that make them super absorbent and quick to dry. It's all about maximizing surface area, reducing thickness, and improving airflow for a modern take on a classic design.
And here's more good news: our honeycomb robes are Oeko-Tex certified, which means they're free from toxic chemicals and harmful substances. Plus, we're committed to minimizing plastic use in our packaging by opting for sugarcane instead. 


We've boldly taken on this 3-year-long development journey because we were confident in our vision; a vision that we've turned into an overwhelmingly successful reality - all available at an affordable price. Don't just take our word for it, though; try out our new honeycomb robe for yourself and experience the difference that Casamera can make in your life. Orders Yours Today!
About us
CASAMERA was created by two quality-obsessed best friends with the goal to create bathroom essentials that perform as great as they look. Our mission is authenticity after comfort.
Sign up to our mailing list