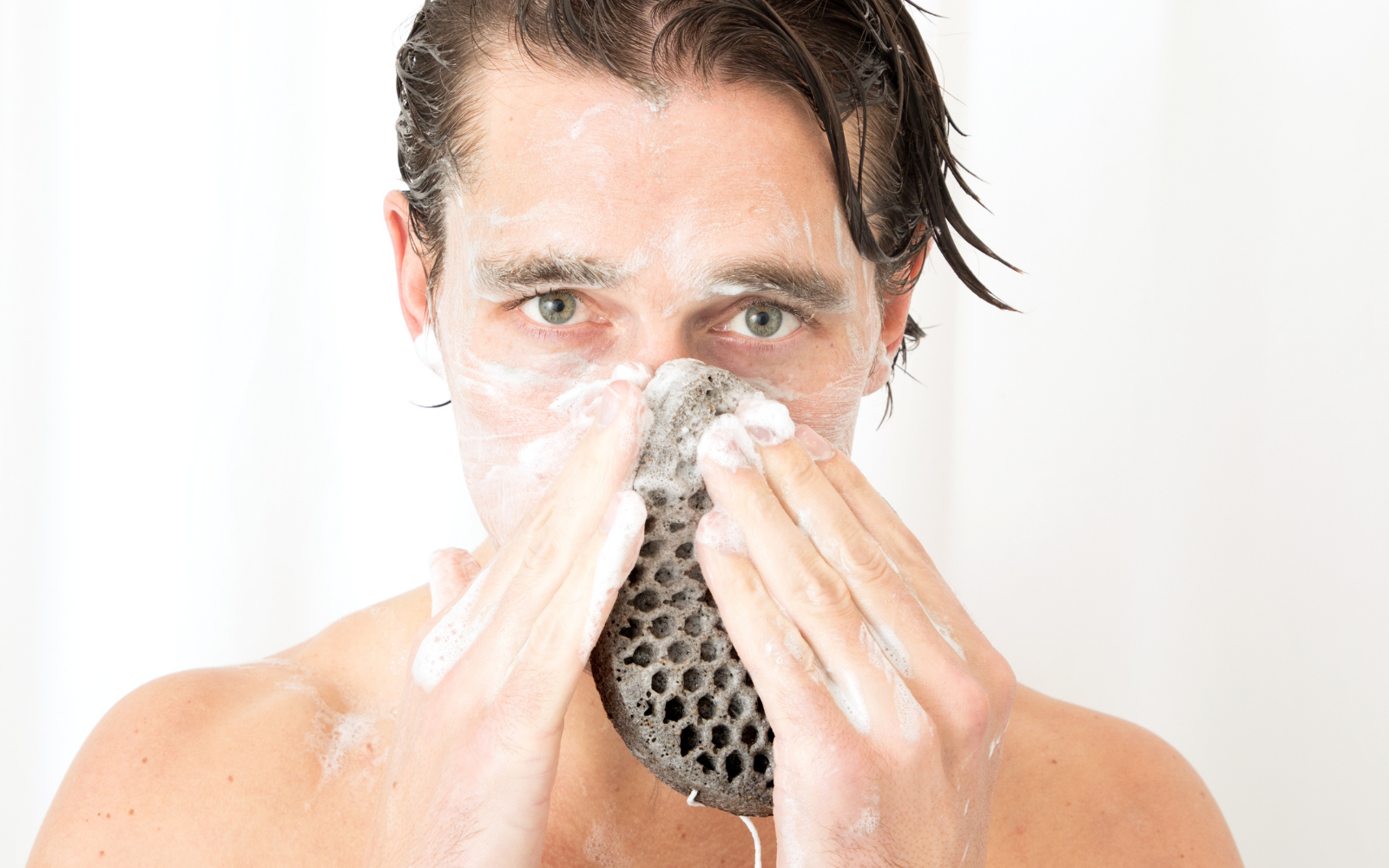 Posted on
---
If you've been using those cheap plastic loofahs all your life, well then, your mind is about to be blown. We were too when we found out that loofaahs are an actual living thing that grows in the soil from an actual plant. Get this. loofahs come from the Luffa plant!
So why on earth did humans decide the best course of action would be to reinvent a naturally occurring tool but make it with plastic?
Even better, natural luffas are bigger, softer, sturdier, firmer, more spongy, and coarser. You need a lot less scrubbing to get the job done. 
The Scrubber is made entirely of healthy, plant-based ingredients and is packed full of benefits for your skin and health.
The double-sided design
The Scrubber is designed with two different but equally awesome sides. 
The front side uses a tasty, honeycomb texture for a playful feel on your skin. Use this side for the most gentle applications like your face and nose area.
The opposite side utilizes a greater concentration of natural walnut shells to buff away dead, dry skin cells and revealing a fresh new hide! Use this side for gentle exfoliation for your shoulders, chest and back.
It's friendly on the landfill
Since The Scrubber is made from all-natural materials and comes straight from the earth, it's only natural it returns to the earth once you're done using it.
The Scrubber is made from the root of the Konjac plant and contains 0% chemicals and 0 ingredients you cant pronounce.
The plant was said to have been used by early Japanese farmers to wash babies because of how soft it is. Konjac is 97% water is rich in minerals + its PH balancing!
Isn't
 that a cute image huh? soft Japanese babies getting nice and clean
After about 45 showers, The Scrubber can be 100% composted at home, without worrying about clogging up the landfill or trapping any baby sea turtles. 
Chop it up into smaller pieces with a pair of scissors

Toss it in dirt or your home compost bin. 
It's an absolute lathering machine!
The Scrubber only requires a drop of body wash to develop a thick, foamy lather. Once it's lathered to your satisfaction, slap it onto your skin and scrub away.  
A simple pass with this 100% natural scrubber and you're clean as a whistle...without having to rub plastic on your most intimate parts!
It comes in 5 different infusions
Although not immediately available, the Shower Scrubber will come in 5 different infusions:
Charcoal infused - has anti-microbial properties + great for getting rid of deep dirt & oil control. This is the classic, the omega 🙌 and will be available from the get-go.

French red clay - helps thoroughly cleanse the skin and promotes cell regeneration.

Matcha infused for its anti-bacterial properties + reduces skin inflammation and evens skin tone.

Peppermint infused to naturally cleanse the skin + its antiseptic and antibacterial properties.

Walnut infused - full of antioxidants + vitamin B to help protect your skin against the elements.
As the Kickstarter campaign progresses, we'll be unlocking one infusion at a time as we hit different stretch goals. 
It's beautifully designed 
The Scrubber arrives flat and dry to your home. Once water is introduced it grows to the perfect scrubbing size.
It's designed to fit perfectly in your hands while you scrub and prevent slipping out of your hands and onto the floor like your always slimy bar of soap. 
A hanging loop is included to allow you to hang the scrubber to dry out between uses and display it in all its beauty on your tiled bathroom wall.
You get extra bathroom decor points if you already own our matching honeycomb towels and bathrobe.
---------------------------
So there you have it. All the reasons why you should order (at least) one on Kickstarter.  They're going for only $10 apiece! Seriously, why not? Pre-order yours now! 
PS: If you're late you can forget about that $10 deal.
About us
CASAMERA was created by two quality-obsessed best friends with the goal to create bathroom essentials that perform as great as they look. Our mission is authenticity after comfort.
Sign up to our mailing list