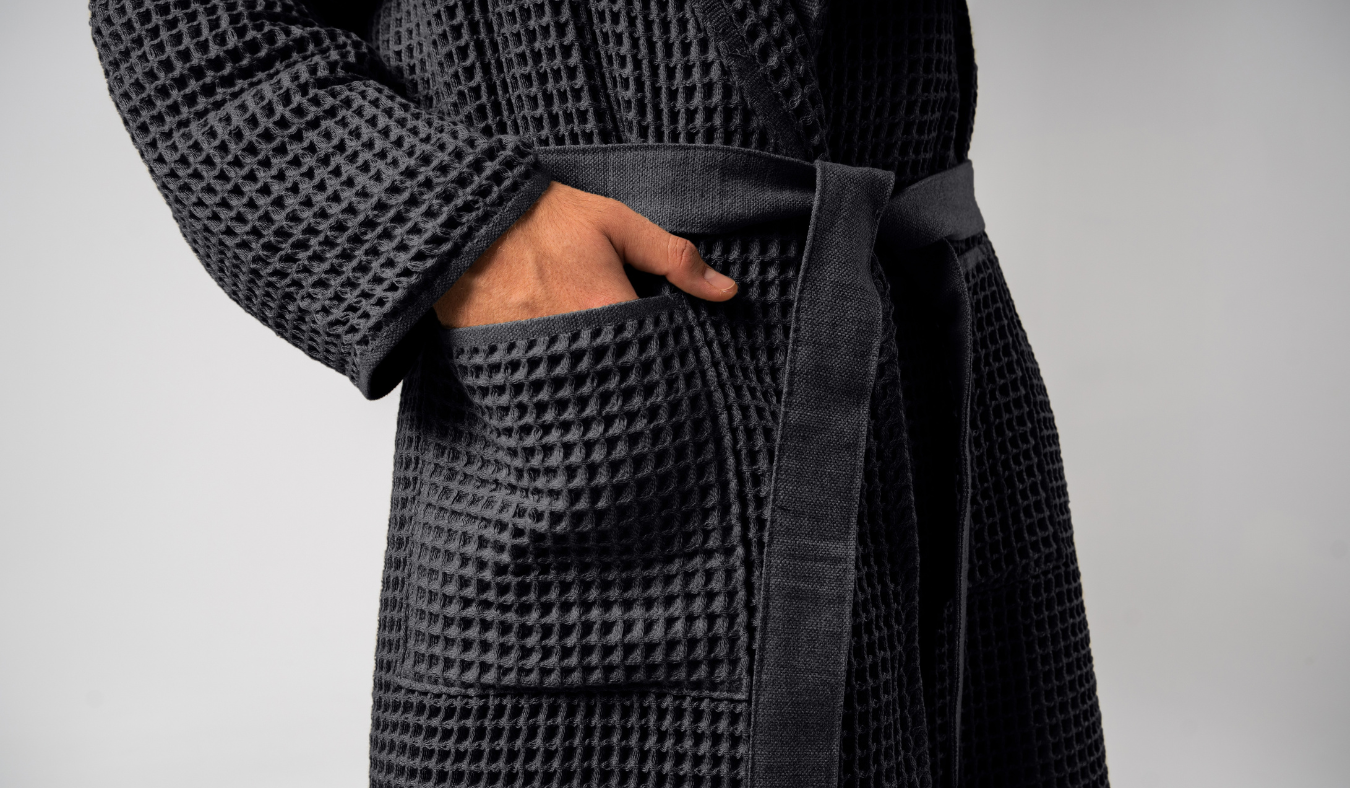 Posted on
---
If you're anything like us, you love a good bathrobe. And not just any bathrobe - we're talking about the kind of bathrobe that makes you feel like royalty, the kind that you can't wait to put on after a long dirty day.
From the fabric to the features and all of our new colors - every detail of
The Robe 2.0
has been thoughtfully designed and meticulously tested to ensure that you're getting the best possible bathrobe for your daily use. Here's why we've put so much time and effort into developing this robe, and why we're confident that you'll love it as much as we do.
A Fabric That's So Soft, You'll Want to Live In It
It took countless hours of research and development to come up with the perfect combination of sustainably-sourced cottons that would give us the rich quality we were after, as well as the moisture-wicking and quick-drying capabilities that make our bathrobe so practical. After over 3 years of sampling and experimentation, we finally created the perfect weave. 
With its all-new, luxurious fabric, once you slip into the bathrobe 2.0, you'll feel like you're wrapped in a warm, bear hug. Plus, our thermoregulating weave ensures you'll never feel too hot or cold.
Style & Utility That Will Make You Say, "Stitch, Please"
At Casamera, we believe the best design is the kind that's so good, you don't even notice. That's why we've taken the sleek and minimalist look of our original robe to the next level by hiding any visible stitching beneath the fabric, creating a truly seamless look that's as stylish as it is comfortable.
But that doesn't mean that we've sacrificed any functionality in the process. In fact, we've spent over 10,000 hours providing you with new features that make The Robe 2.0 even more practical
We've elongated the sleeves so that you have full control over your cuff length, we've widened the cut of the robe to give you more freedom of movement without the risk of accidental exposure, and we've added a slew of new colors for you to choose from, including Pistachio, Concrete, Oatmeal, Denim and the crowd-favorite, Charcoal.
And of course, we've kept all of the classic features that you know and love, like our double-duty hood, deep device-friendly pockets, dependable waist tie, and secure eyewear loop.
Staying Cozy and Saving the Planet
At Casamera, we take sustainability so seriously that we've incorporated it into every aspect of our organization - from operations, production, and down to the final bathrobe itself.
That's why we only use sustainably-sourced cotton and 100% natural dyes. We ship your robe in packaging made from recyclable sugarcane. Plus, we offset our carbon emissions by planting trees, so you can breathe better and feel good about saving the planet, one cozy step at a time.
So why did we put 10,000 hours into developing The Robe 2.0?
Simply put, because we believe that you deserve the very best. We wanted to create the last bathrobe you'll ever need and if this is your first- the only one you'll ever use. 
The Robe 2.0 is available for preorder for a limited time. Order yours today!

About us
CASAMERA was created by two quality-obsessed best friends with the goal to create bathroom essentials that perform as great as they look. Our mission is authenticity after comfort.
Sign up to our mailing list